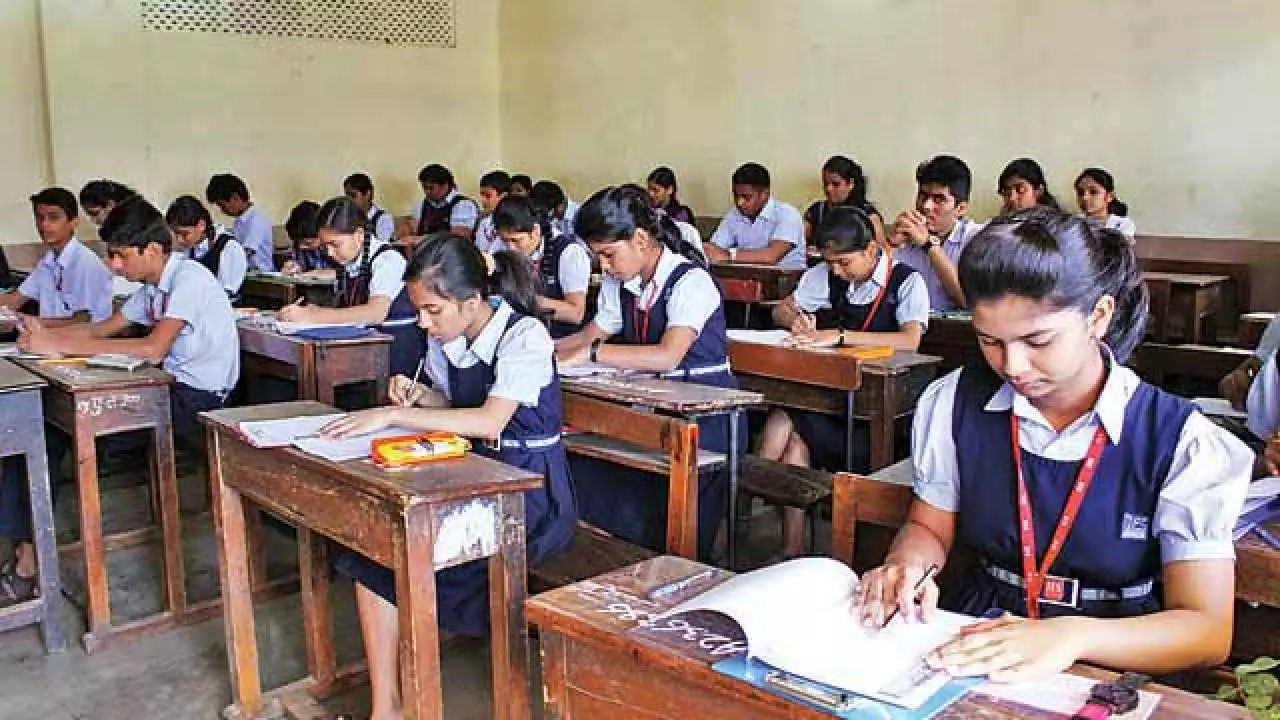 The Central Board of Secondary Education, CBSE, announced that CBSE class 9 class 11 students who failed, can appear in school exam again given the Covid-19 (novel Corona Virus) pandemic and lockdown situation.
Know the complete details here. Also, read the official CBSE notification given at the end of the blog.
CBSE Students Who Failed in School Exam Can Reappear
The CBSE board also clarified that the second opportunity to appear for the annual examinations is a "one-time" option only. It will be applicable only for this year considering the extra-ordinary pandemic situation going on in India and the entire World.
Moreover, the schools can conduct the test either in online mode or offline or any other innovative tests that can be held, to help in the promotion of students to the next grade. The CBSE Controller Sanyam Bhardwaj stated, "The schools can conduct either online or offline exams for the failed class 9, 11 students. This one-time opportunity is being extended only in the current year in view of the unprecedented condition of COVID-19."
"This is an unprecedented situation. Children are confined at home. Their schools are closed. They are experiencing mental stress and anxiety. Parents are worried about salaries and the health of the family. In this difficult time, children who have not been able to clear school examinations will be even more upset," Mr. Bhardwaj said.
"In such a difficult time, all of us will have to make joint efforts to relieve students from stress and help them mitigate their anxiety," he added.
About the School Exam Again, the Human Resource Development (HRD) Minister Dr. Ramesh Pokhriyal Nishank wrote on Twitter –
In view of the unprecedented circumstances of Covid-19, Union HRD Minister, Dr. Ramesh Pokhriyal Nishank (@DrRPNishank) has advised all CBSE schools to provide an opportunity to all students, who have failed in 9th and 11th to take online/offline tests.
Previously, the board had decided to promote CBSE class 9 class 11 students based on internal assessments which include the practical marks, project reports, periodic tests, mid-term and pre-board exams, etc. conducted inside the schools so far.
Now, the board has given CBSE Class 9 Students and CBSE Class 11 Students another opportunity to appear for the school-based assessment. The minister also said that students will be given sufficient time to prepare for the exams.
The step has been greatly applauded by students and parents. It has come as huge relief especially now when most parents are living under tremendous financial stress due to pandemic and are working hard to pave their way out of the lockdown. Considering the time and circumstances, the move to provide CBSE failed students a second chance has been cheered by all the stakeholders of the CBSE.
Students from classes 1-8 have been already promoted to next grade by the board. Therefore, it can be safe to say that, this year CBSE result of non-board classes may remain 100% with every student qualifying the exam.
CBSE Date Sheet to be out on Monday – 18 May 2020
The HRD Minister also announced the date of release of CBSE date sheet 2020 for pending class 10 and 12 exams. The date sheet will be released on Monday, i.e. 18 May 2020.
Earlier today, HRD Minister announced that CBSE date sheet will be out by the end of the day. However, later through his tweet, he said that due to certain additional technical aspects, CBSE date sheet will be released on Monday.
"CBSE is taking into consideration some additional technical aspects before finalizing the date sheets of the board exams of classes 10th and 12th, due to which, the date sheets will now be released by Monday i.e. 18-05-2020. Inconvenience caused is sincerely regretted," Dr. Pokhriyal tweeted.
Two weeks back, the minister announced that the remaining CBSE exams of class 10 and 12 will be conducted from 01 to 15 June 2020.
Read also: Remaining CBSE Board Exams for Class 10th, 12th to be held from 1 July
The CBSE exams will be held only for '29 key subjects which are important for promotion and admission of students in higher education institutes. The class 12 exams will be held for the entire country; however, the class 10 board exams will be conducted only in north-east Delhi, where exams were halted because of violent riots.
Check out the table given below to know the details of the remaining CBSE exams:
CBSE Exams 2020

Number of Exams Pending

Name of the Exams

CBSE class 12 exams to be held all across India

12 Exams

1. Business Studies

2. Geography

3. Hindi (Elective)

4. Hindi (Core)

5. Home Science

6. Sociology

7. Computer Science (Old)

8. Computer Science (New)

9. Information Practice (Old)

10. Information Practice (New)

11. Information Technology

12. Biotechnology

CBSE class 12 exams to be held in North East Delhi

11 Exams

1. English Elective – N

2. English Elective – C

3. English Core

4. Mathematics

5. Economics

6. Biology

7. Political Science

8. History

9. Physics

10. Accountancy

11. Chemistry

CBSE class 10 exams to be held all across India

Nil

CBSE class 10 exams to be held in North East Delhi

6

1. Hindi Course A

2. Hindi Course B

3. English Comm.

4. English Lng. & Lit.

5. Science

6. Social Science

Overall Exams to be conducted by the board

29 Exams
CBSE Result 2020
Earlier this week, the HRD Minister during his live webinar session with the teachers said that the evaluation process of CBSE board exams 2020 is likely to be completed within 50 days. As soon as the evaluation process ends, the CBSE result 2020 will be declared online on the official website of the board i.e. cbse(dot)nic(dot)in.
The CBSE is considering all possible measures to release the result at earliest so that students can apply for higher education next. It must be noted that the board is distributing the answer book to teachers at their homes, following the lockdown and social-distancing protocols. The results will be announced soon after the evaluation process is ended.
Here is the CBSE Notification on 'CBSE Class 9 Class 11 Students to Appear in School Exam Again' as released by the education minister on twitter: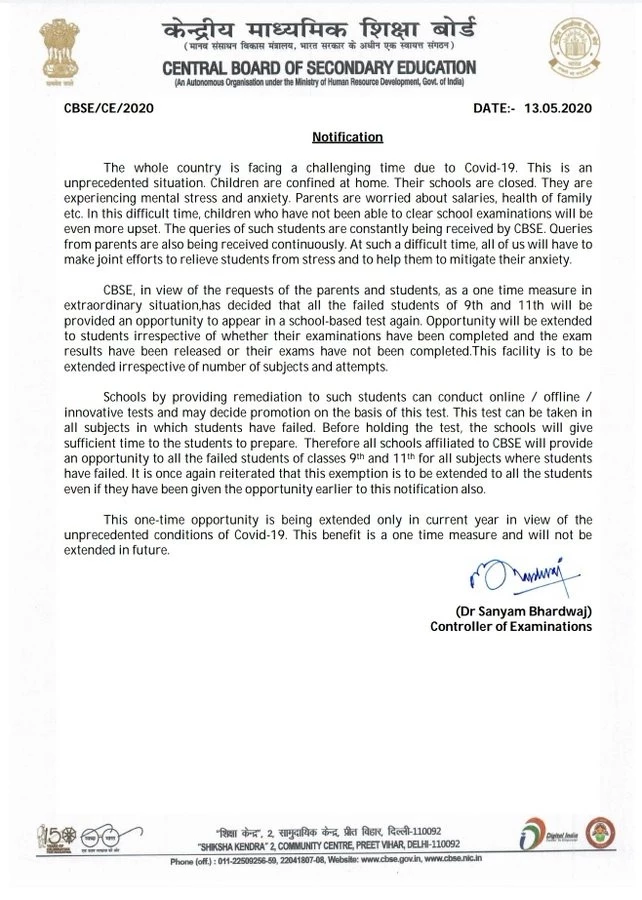 Read also: CBSE Class 10, 12 Board Exam Evaluation Process Begun, Results Soon
Read also: CBSE Syllabus 2020-21 for Class 11 and 12 Applied Mathematics Released
Keep visiting Doubtnut for all the latest on all upcoming board and entrance exams!