Have a flair for storytelling?
The Central Board of Secondary Education (CBSE) has announced its first-ever Storytelling Competition to let students give wings to their imagination. All CBSE affiliated schools will organise 'Story-telling Competition' on innovative topics like 'the gift of imagination', 'the flowers are calling', 'siblings quibbling', and 'jewels of the sky'.
In the latest circular, directed all Heads/Principals of Schools affiliated to CBSE, Board states that,
"What Did the Singular Tell the Plural? You would certainly listen to many stories after putting this question to your students. Each student will narrate a story that would be unique and creative in its own manner. To give a platform to exploration of imagination and to all such creative students of CBSE schools, the Central Board of Secondary Education announces the first CBSE Storytelling Competition for the students of classes 3rd to 12th of all CBSE affiliated schools".
With the storytelling competition, CBSE aims at:
1) Promoting creativity among students
2) Improving thinking skills
3) Enhancing analysis and evaluation skills
4) Developing communication skills
Complete Details of CBSE Storytelling Competition 2019
Students at CBSE schools from classes 3 to 12 can take part in this competition. The CBSE first storytelling competition will be organised at school-level initially, and later the best entries can go up to regional and national levels.
The board in the latest official circular has provided detailed guidelines and topics of the CBSE storytelling competition.
CBSE Storytelling Competition 2019: Category of Participation
Students will be categorized under Four Heads:
1) Primary: Class 3 to Class 5
2) Middle: Class 6 to Class 8
3) Secondary: Class 9 and Class 10
4) Senior Secondary: Class 11 and Class 12
CBSE Storytelling Competition 2019: Participation Level
School Level Competition
Schools level Storytelling Competition will be held from 18th to 23rd November 2019. There will be one winner from each category, which schools will be selecting. The school-level winners will be representing their schools at the regional level.
Regional Level Competition
The Regional Level Story Telling Competition will be conducted digitally through the CBSE Storytelling App available at Google Play Store.
The schools are required to online upload the best entries each category. There can only be four entries per school. In case schools put more than 4 entries, none of the entries will be taken up for judgment.
Uploading of Video Entries
Schools can begin uploading entries from 24th to 30th November 2019. Parental consent is necessary for uploading the student's stories on the CBSE Storytelling App and subsequently on DIKSHA and CBSE.
Duration of Videos
For Primary level Classes: Up to 2 minutes

For Middle-level Classes: 2-3 minutes

For Secondary level Classes: 3-4 minutes

For Senior Secondary Classes: 3-4 minutes
At the Regional Level, one best story of each category will be selected from each CBSE region. The winners from the regional level will later participate in the National Level CBSE Storytelling Competition.
Assessment Criteria
The assessment criterion at the regional level will be creativity, fluency in narration, content delivery, coherence and expressions.
Prizes at Regional level
Each best entry of the school level will get a Merit Certificate through CBSE Storytelling App.
National Level Competition
The National Level CBSE Storytelling Competition will be held live in Delhi/ NCR on 19th – 20th December 2019.
Venue and topics of the National Level Storytelling completion will be notified by the board later with the declaration of result of the Regional Level. Schools/participants will have to make their own travel and stay arrangements if required.
Prize at National Level
At the national level, three best stories from each category will be awarded a Medallion and a Merit Certificate.
CBSE Storytelling Competition 2019: Registration
To participate in regional level competition schools, need to complete the online registration process at www.cbse.nic.in. Registration will be open from 24th to 30th November 2019.
The registration fee is INR 1000 per school. Registration fees can be paid via Debit Card/ Credit Card/ Online Payment. Fee once paid shall not be refundable.
Topics of CBSE Story Telling Competition
CBSE has given the complete list of storytelling topics in the latest Circular. The topics are arranged subject-wise from class 3 to class 12. Students have been given plentiful choice in the topic selection. They can pick any topic based on their interests.
There are two types of topics from each subject:
Academic topic

Topic of story-telling
Process Flow of CBSE storytelling competition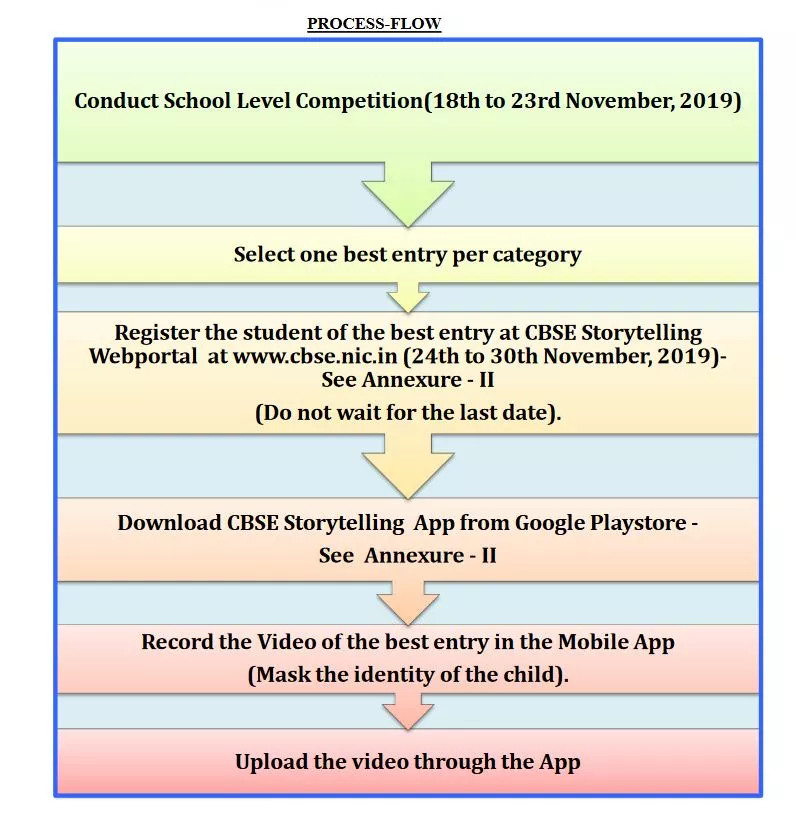 To check out the topics of storytelling and registration guidelines: click here