On April 01, 2020, the Central Board of Secondary Education, CBSE, announced that due to COVID-19 outbreak, the board will promote all the students to next academic grade, except for Class 10th and Class 12th.
In continuation of the same notice, the CBSE board has now released a new notice regarding its promotion policy and CBSE results 2020.
The latest notice offers better in-depth understanding of its promotion policy which will be followed for classes 1 to 8 and class 9 and class 11 students. The notice also shines light on all sorts of student's questions and enquiries raised by various stakeholders of the board.
CBSE Latest Updates
The CBSE's latest notice includes 23 Frequently Asked Questions, FAQs received by the board regarding its promotion policy and other key announcements.
Key Highlights
CBSE clarified on its promotion policy of classes 1 to 8 and classes 9 and 11

CBSE also notified on the pending status of class 10 and 12 board exam 2020.

Earlier, board notified that it would be conducting CBSE Class 10th 12th Exam 2020 only for 29 Main subjects.
Pending CBSE 2020 exams for classes 10 and 12 have been cancelled for foreign students.
CBSE Exams to Held for Only 29 Main Subjects
Earlier, the board has also notified that it'll be conducting the exams for only 29 main subjects and the remaining examinations have been cancelled. Thus, one of the most frequently asked question from the student was regarding the CBSE Class 10th 12th Exam Dates 2020.
The board replied that, the new CBSE exam schedule will be announced after 14 April 2020 on assessment of prevailing circumstances in the country.
The CBSE has also clarified that, looking at the still developing situation around Coronavirus pandemic, the CBSE is currently not in a position to release the CBSE Exam Dates 2020. However, the candidates will be given minimum 10-day advance notice before the continuation of the examination.
READ ALSO: CBSE Board Exam 2020 to be Held for Only 29 Main Subjects
FAQs Related to CBSE class 12 and 10 board exams 2020
Following the CBSE's previous announcement, numerous students and parents reached out to the board for clarification of various doubts about the CBSE promotion policy and how would it impact the future of the students. The board has answered almost all queries of its stakeholders. The below given FAQs are released by the board: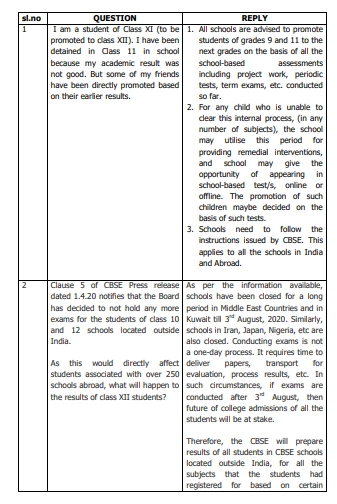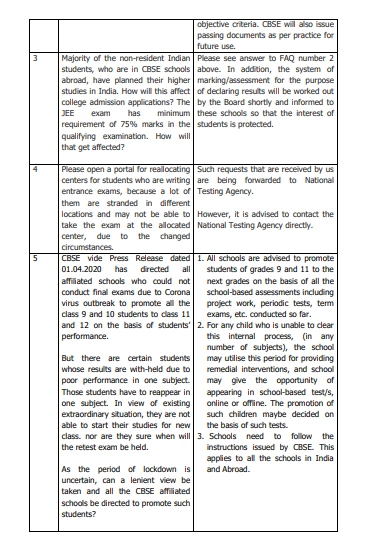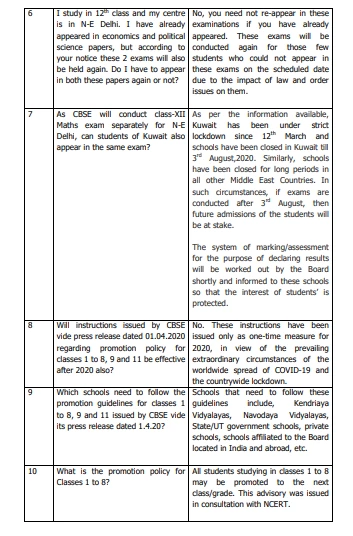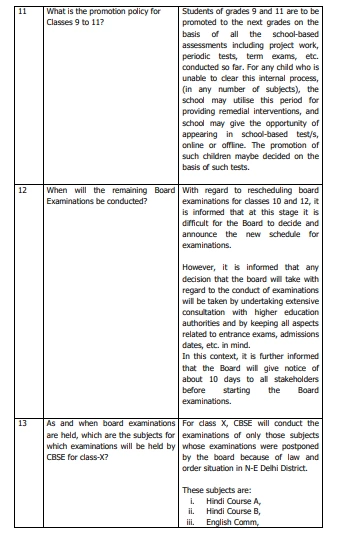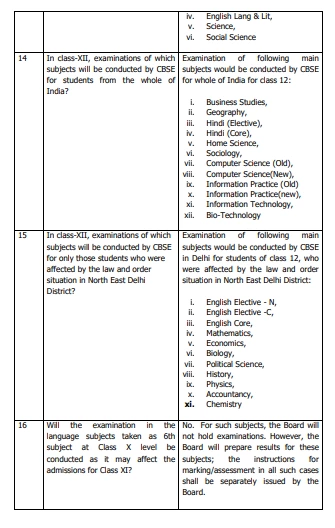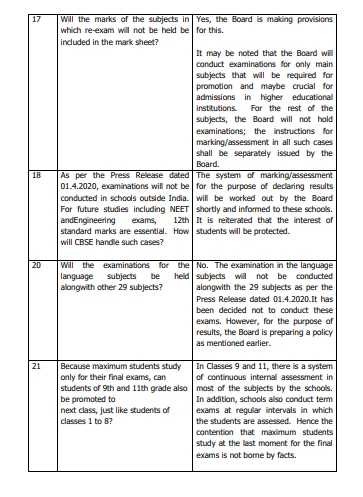 FAQ Regarding CBSE Students Located Outside India
Student's Query: Clause 5 of CBSE Press release dated 1.4.20 notifies that the Board has decided to not hold any more exams for the students of class 10 and 12 schools located outside India. As this would directly affect students associated with over 250 schools abroad, what will happen to the results of class XII students?
Link: http://cbse.nic.in/newsite/attach/FAQPDF_04042020.pdf
CBSE Answer:
As per the information available, schools have been closed for a long period in Middle East Countries and in Kuwait till 3rd August, 2020. Similarly, schools in Iran, Japan, Nigeria, etc are also closed. Conducting exams is not a one-day process. It requires time to deliver papers, transport for evaluation, process results, etc. In such circumstances, if exams are conducted after 3rd August, then future of college admissions of all the students will be at stake. Therefore, the CBSE will prepare results of all students in CBSE schools located outside India, for all the subjects that the students had registered for based on certain objective criteria. CBSE will also issue passing documents as per practice for future use.
For more info in this regard log on to cbse(dot)nic(dot) in and keep visiting Doubtnut for the most authentic and up-to-date info related to upcoming academic and entrance exams!