The Himachal Pradesh Education Board Class 12 result out now. This year, the HPBOSE Result 2020 saw an improvement of 14% in comparison to last year.
Scroll down to know the complete details on HP Board 12th Result 2020. Check out steps to download result online, HPBOSE Result pass percentage
HPBOSE Class 12th Result 2020 Declared
The Himachal Pradesh Board of Secondary Education, HPBOSE, has declared the class 12th board exam results. This comes after the HP board announced that it will not be conducting the remaining HP board examinations 2020.
The HP Board class 12th exams were held in March 2020. Due to COVID-19 lockdown, the examination evaluation process was delayed.
HPBOSE Result: Statistics
As per the officials, in total 86,633 students - 43,410 males and 42,898 females - had appeared for the board exams this year.
In the arts stream, maximum 49,878 students took the exams followed by 25,356 science and 11,399 commerce students. Approximately, 65,654 students were declared passed.
Girls performed better than Boys: The pass percentage of girls was 79.75, those of boys was 72.42.
There are 83 students in the merit list.
The female students secured 65 positions and male students secured 18, said Dr Suresh Kumar Soni, chairman of the board.
While, 46 students belonged to government schools and 37 were from private schools, he added.
HPBOSE class 12 Result 2020: Topper
In arts stream, Shruti Kashyap of Government Girls' Senior Secondary School (GG SSS) , Rampur Bushahr in Kullu, secured first position with 98.2% marks.
She secured 491 marks out of 500.
In the commerce stream, Megha Gupta of GG SSS, in Nahan of Sirmour topped the state with 97.6% marks.
Her overall score was 488 out of 500.
In the Science Stream, Prakash Kumar from Science School of Education, Dhalpur, Kullu, topped the science stream. He also became the overall topper across all streams in the entire state with 99.4% marks.
He secured 497 marks out of 500.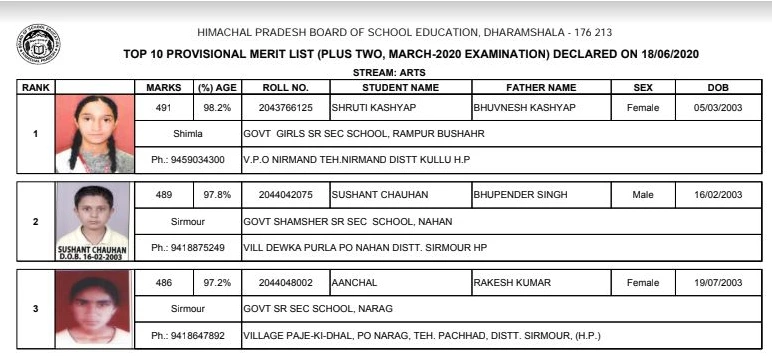 Here is complete list of Toppers:
Himachal Pradesh Education Board Result: Science Stream Toppers
Prakash Kumar - 99.4 percent

Shubham Jaiswal - 99.2 percent

Tanisha - 99 percent

Abhinav Karmani - 98.8 percent

Ankush Sharma - 98.6 percent
Himachal Pradesh Education Board Result: Commerce Stream Toppers
Megha Gupta - 97.6 percent

Ambika Vikram - 96.8 percent

Kanika Sharma, Kritika, Saloni Joshi - 96.6 percent
Himachal Pradesh Education Board Result: Arts Stream Toppers
Shruti Kashyap - 98.2 percent

Sushant Chouhan - 97.8 percent

Aanchal and Amritanshu - 97.2 percent

Prachi Sharma - 96.8 percent
HP Board Result 2020: Pass Percentage
The overall pass percentage for this year stood at 76.07%.
The number of male candidates that qualified the class 12th examination stood at 31,439 (72.42 per cent) while 34,215 (79.75 per cent) female candidates qualified the examination, this year.
"This year, the number of male students supersedes that of female students, 43,410 male in comparison to 42,898 female students. A total of 325 students did not appear in the exam," Board Chairman Suresh Soni told a leading News agency.
The result is declared based on the marks in 4 subjects for which the examinations were conducted in March 2020.
While the 5th subject, which is an elective, the marks in this subject will be awarded the marks equivalent to the highest marks scored in the other 4 papers, as per the media reports.
"Despite adverse conditions, the board planned day-to-day work to evaluate papers in the interest of students as soon as it becomes possible to do so," Soni said.
Last year, the overall pass percentage among boys stood at 57.74 per cent, higher than the pass percentage among girls that was recorded as 66.73 per cent.
In 2019, 62.01 per cent of candidates passed the exams.
How to Check HPBOSE 12th Result 2020 Online?
The candidates can check their class 12th result on the official website hpbose[dot]org.
Here's how to check HPBOSE class 10th result:
Step 1: Open the official website Himachal Board, i.e. hpbose[(dot]org.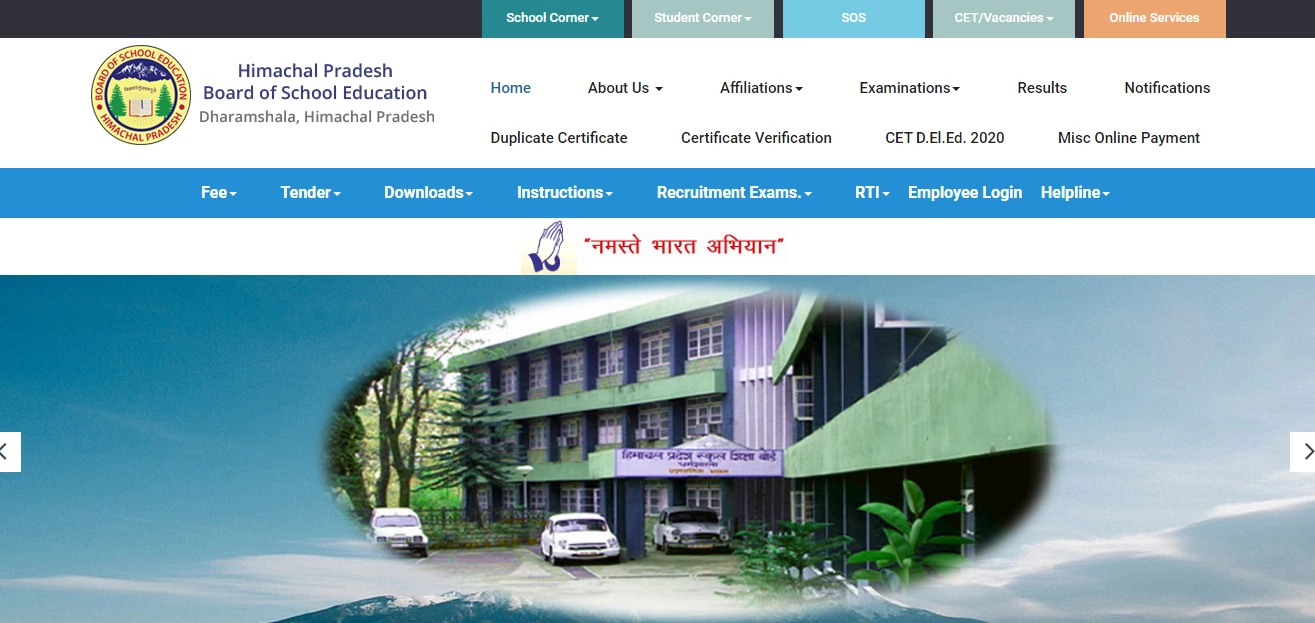 Step 2: Go to the "Result Tab" on the top right corner.
Step 3: Tap on the HPBOSE class 12th result link — "12th (Regular/Compartment/Additional/Improvement/Diploma Holder/Diploma Holder(Re-Appear)) Examination, March-2020" NEW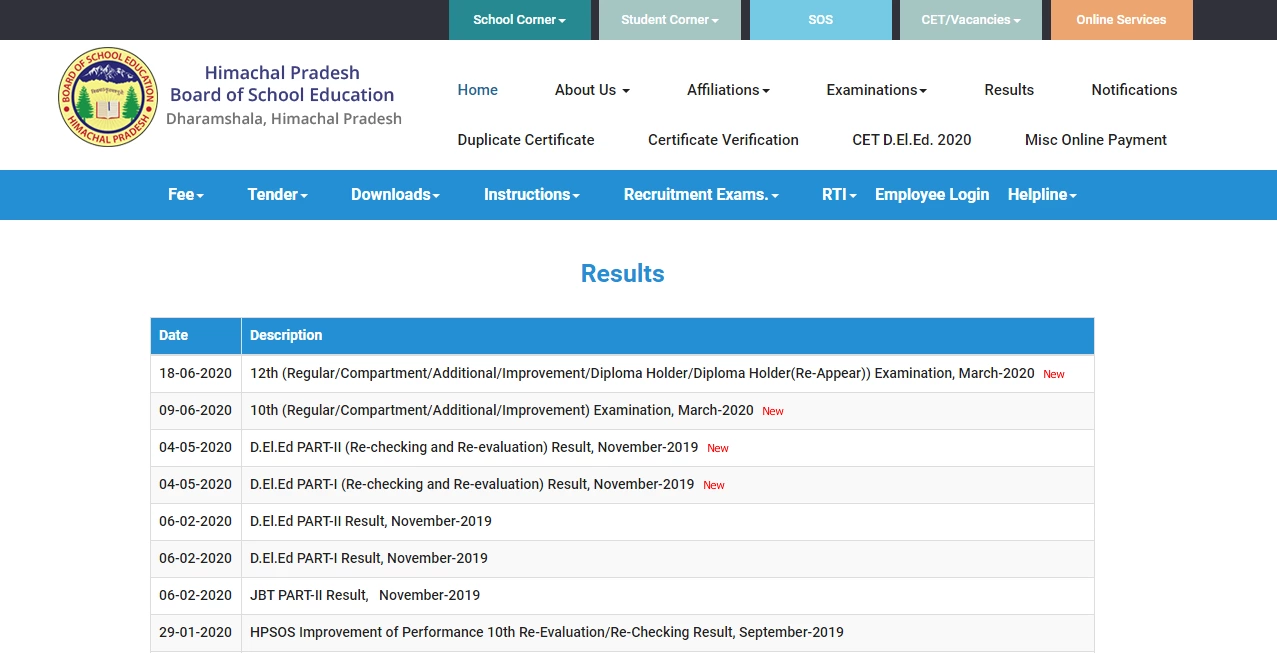 Step 4: Fill in your "Roll Number" as per the admit card and click on the "Search" option.

Step 5: Make sure to download the result for future reference.
How to Check HP Board 12th Result 2020 via SMS?
If the website becomes unresponsive or too slow, than students can also check their HPBOSE Result via SMS.
Type HP12<space><ROLL NUMBER> and sending it to 56263.
The result will contain details regarding the student's name, roll number, subject-wise marks, overall marks, and percentage.
The HP class 12th exams were scheduled from 04 to 24 March 2020. But, exams from 16 March 2020 onwards were cancelled on account of the Coronavirus pandemic imposed by the Central Government.
The exam of Geography was later conducted on 08 June 2020.
Unsatisfied with your Marks? Apply for Re-evaluation of HPBOSE Result 2020
The HP Board has allowed the re-evaluation for the HPBOSE 12th Result 2020. Based on the official notification, the recounting or revaluation can be availed by all the students who are unhappy with their marks.
To apply for re-evaluation, a student must have obtained at least 20 per cent marks in that particular subject.
Interested candidates can apply for revaluation of the result until 03 July 2020.
To apply for re-evaluation, students need to online apply on the official website.
The application fee for re-evaluation is INR 500 per subject and for recounting is INR 400 per subject.
The Himachal Board's official notification, said, "Students who wish to submit answer sheets for re-evaluation should apply online through www.hpbose.org and pay Rs 500 for re-evaluation and Rs 400 for scrutiny by 03 July. For applying for re-evaluation, students should have at least 20% marks in the subject."
New Vocational Courses have been Introduced
For the session 2020, the HP board has introduced 15 new vocational subjects from class 9 to class 12.
The courses are designed for specifically for the vocational jobs in sectors like IT, ITS, media, electronics, beauty and wellness, healthcare, tourism, plumbing, etc.
The course curriculum for these vocational subjects will be developed by Pandit Sunder Lal Sharma of Central Institute of Vocational Education, Bhopal, India.
About HPBOSE
The Himachal Pradesh Board of Secondary Education is the apex board that conducts schools level class 10 and 12 board exams in the Himachal Pradesh.
The board came into existence in 1969. Currently, over 8000 government and private-aided schools are affiliated with the HPBOSE.
This year, the board has established 1650 examination centres all across the state. The HPBOSE also publishes schoolbooks for classes 1 to 12.