The MHRD on Tuesday announced the new guidelines for online classes run by schools and other education institutions amid COVID-19 pandemic.
The HRD Minister Dr. Ramesh Pokhriyal Nishank released the PRAGYATA – a set of guidelines on online learning in New Delhi.
The Guidelines recommend a cap the screen-time of the students.
HRD Minister announced the launch on his Twitter account -
"Introducing 'PRAGYATA': Guidelines on #DigitalEducation for school heads, teachers, parents, and students containing recommended screen time for children, tips on coping with mental/physical stress during #DigitalLearning & more. Stay tuned for more details," he wrote.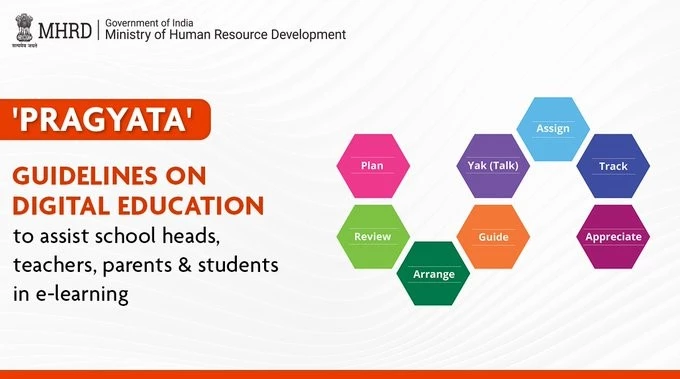 The HRD Ministry has advised that the online classes for pre-primary children shouldn't be more than 30 minutes a day.
For class 01 to 08, it has been recommended that not more than two online sessions of up-to 45 minutes each should be organized in a day.
The PRAGYATA guidelines have been issued keeping in mind the overall development of the students, as it is also essential to cut down undue screen time.
For the senior classes 09 to 12, the HRD Ministry has recommended to cap the online classes to a maximum of four sessions of up-to 45 minutes each.
Study at Home with Doubtnut
The Corona Virus [COVID-19] pandemic has brought everything to a halt. All schools are shut and students are at home.
Amid the lockdown, make sure to continue learning at home with Doubtnut.
With the new set of digital education guidelines, PRAGYATA, introduced by the Centre, the e-learning will become even more fun and less of a challenge.
At Doubtnut, we surely recognize the need of monitoring the student's screen time.
Our 2-5 minutes video solutions put an auto-cap on student's screen time, and, are curated with the objective of getting children into the habit of self-study.
Doubtnut provides video solutions on maths, physics, chemistry and biology for classes 6th to 12th of CBSE board schools and state boards. There are solutions for NCERT textbooks, popular CBSE reference books, study material for IIT and NEET aspirants.
Play any video tutorial and start learning right away.
HRD Minister's Statement on the Release of the PRAGYATA Guidelines
Dr. Pokhriyal said that COVID-19 pandemic has led to closure of schools and has impacted over 240 million children of the country who are enrolled in schools.
He said, PRAGYATA guidelines have been developed from the perspective of learners, with a focus on online, digital education for students who are presently at home due to lockdown.
He added that these guidelines on Digital Education provide a roadmap for carrying forward online education to enhance the quality of education.
The Minister highlighted that the guidelines will be relevant and useful for a diverse set of stakeholders including school heads, teachers, parents, teacher educators and students.
The guidelines stress upon the use of alternative academic calendar of NCERT, for both, learners having access to digital devices and learners having limited or no access.
Children Locked at Home is another Major Concern
Due to Corona Virus pandemic and lockdown that followed schools have been closed for more than 4 months now.
With most schools trying to adapt the online education and teaching remotely to students via online classes, monitoring the screen-time of children has become a crucial factor now.
Besides the screen-time issues, confining children at home for so long can also have an adverse effect on children.
As a matter of fact students should be encouraged to engage with their peers for healthy development and also take part in physical activities outside their homes.
About PRAGYATA Guidelines
The PRAGYATA guidelines encompass the 8 key steps of e-learning i.e., Plan, Review, Arrange, Guide, Yak (talk), Assign, Track and Appreciate.
The step-by-step approach will help guide educators in the planning and implementation of digital education.
The Guidelines also give emphasis to the need to amalgamate all efforts related to online education, benefitting students all across the country.
The PRAGYATA initiative includes DIKSHA, SWAYAM Prabha, Radio Vahini and Shiksha Vaani.
Stay tuned with Doubtnut for latest updates on digital learning.