National Testing Agency (NTA) has released the official notification for National Eligibility cum Entrance Test (NEET) 2020 examination to provide admissions in MBBS and BDS courses. It is a national level medical entrance exam conducted once in a year in offline mode. The online registration for NEET 2020 will begin from 2nd December 2019 and exam will be held on 3rd May 2020.
NEET 2020 Important Dates
NEET 2020 aspirants can check out below tabulated official NEET dates as released by NTA:
| | |
| --- | --- |
| Events | NEET 2020 Important Dates |
| Application form release date | 2nd December 2019 |
| Last date for submission of application form | 31st December 2019 |
| NEET (UG) Admit Card | 27th March 2020 |
| NEET 2020 Exam Date | 3rd May 2020 |
| Answer key | 2nd week of May 2020 |
| Result announcement | 4th June 2020 |
| Counselling date | 2nd week of June 2020 |
NEET 2020 Eligibility Criteria
Listed below are the necessary eligibility conditions as prescribed by NTA for the candidates willing to appear in NEET 2020:
Age Limit: an applicant must have attained 17 years of age to be eligible for NEET 2020 examination. There is no upper age limit for NEET 2020 registration.
Education: An applicant must have completed or appeared in class 12th with minimum of 5 subjects. English, Chemistry, Physics are the compulsory subjects to apply. Private students, candidates of distance learning and those who have Biology as an additional subject are also eligible for the exam.
Minimum Pass Percentage:
General candidates: 50%

General PwD: 45%

OBC/SC/ST: 45%

OBC/SC/ST PWD: 40%
Total No. of Attempts: Students can appear for the exam as many times as they want as there is no limit on the number of attempts.
NEET 2020 Reservation Criteria
The 10% Economically Weaker Section reservation is NOT applicable in NEET 2020. Tabulated below is the reservation criteria for NEET 2020:
| | |
| --- | --- |
| Category | Reservation |
| SC | 15% |
| ST | 7.5% |
| OBC | 27% |
| PWD | 5% |
NEET 2020 Application Form
Candidates are required to fill the NEET 2020 Application Form in online mode only. The NTA will be releasing the application form of NEET 2020 from 2nd December 2019. Final date to fill the NEET 2020 application is 31st December 2019. Note that, candidates must fill the application form once, as more than one entry can lead to the cancellation of forms. You must provide a working mobile number and email address at the time of registration to confirm your online login credentials. You must also submit most recent passport size photograph & signature in running hand as prescribed in the prescribed format to avoid rejection of images later.
Documents and other essential details required while filling the application form are:
Personal Details:

Candidate's name, father's name, mother's name, complete mailing address, date of birth (10th marks sheet), working mobile number and email address.

Identity Documents:

Aadhaar number / voter ID / passport number / ration card number or any other government identity card

Recent photograph:

Scanned photograph either in jpg or jpeg format. Size: 10 kb - 200 kb

Candidate's Signature:

Scanned signature either in jpg or jpeg format. Size: 4 kb - 200 kb
How to Fill the Online Registration for NEET 2020?
Filling the NEET 2020 application form consist of four simple steps. However, before going about filling the NEET 2020 application form applicants must keep the following documents handy:
10th class mark list / certificate
12th class mark list / certificate

Passport sized photograph

Candidate's signature

Valid ID proof
Tabulated below is the applicant's category and type of permissible ID proof by the candidate:
| | |
| --- | --- |
| Applicant's category | Permissible ID Proof |
| Indian Nationals of all states | Aadhaar Card or Aadhaar Enrollment No., Ration Card No., Bank Account No., Passport No. |
| NRIs and Foreign Candidates | Passport Number |
Step 1: Registration for NEET 2020
To register for NEET 2020 examination you must visit the official website i.e. ntaneet.nic.in and click on the 'New Registration' link. Here you must generate NEET Registration Number and Password. On successfully registering, you will be issued NEET Login credentials. Enter the same and sign in again to complete NEET Application Form and remember them for future purpose.
Now you must carefully fill the application form and mention your particulars as per your Aadhaar card, 10th and 12th mark sheet. Note that once you click on 'Submit' button, you won't be able to change the details mentioned by you. For that reason, you must meticulously review their application form before hitting the submit option.
The application form will look like this -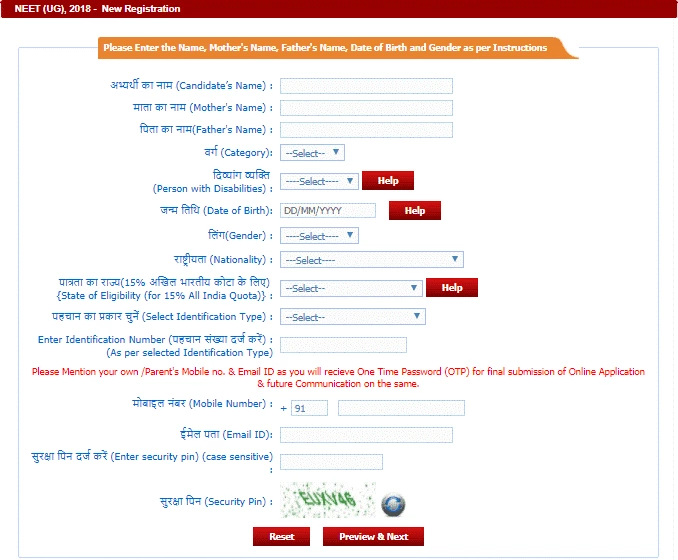 Step 2: Upload Passport Sized Photo and Signature
Next step uploading your scanned passport sized photograph and signature as per the Guidelines issued by NTA. Check out below table to see the specifications:
| | | | |
| --- | --- | --- | --- |
| Document | Size | Format | Particulars |
| Photo | 10 – 100kb | JPG / JPEG | It should have candidate's name & Date |
| Signature | 3 – 20 kb | JPG / JPEG | Sign must be done in running hand with a blue or black pen. Background of signature must be white |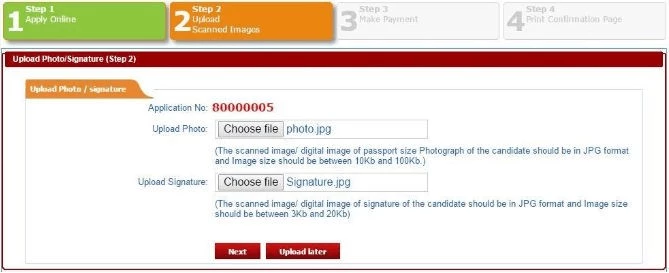 Step 3: Fee Payment
On successfully filling the form and uploading the documents, applicants must pay the application fee. The NEET 2020 registration fee is Rs. 1400 for general & OBC candidates and Rs. 750 for SC / ST / PH candidates. You can make payment via following payment options:
UPI App

Debit card

Credit Card

Net Banking

E-wallet
Here is info graphic on various modes with transaction and charges: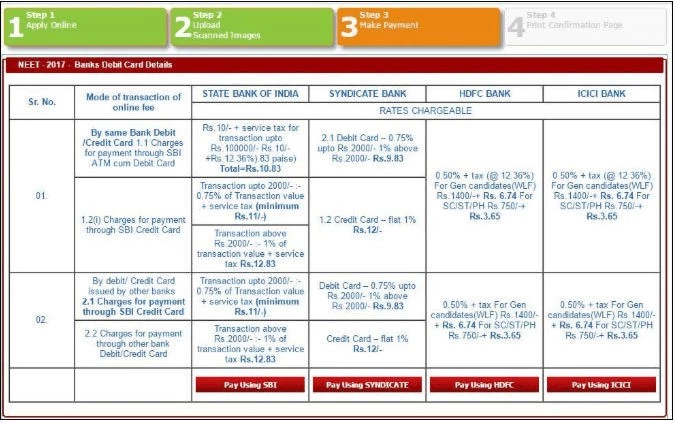 Step 4: Download Confirmation Page
As soon as your application status shows 'Confirmed', it means your application is accepted. Make sure to take the print out of NEET Application Form as well as of the confirmation page.
NEET Exam Centers 2020
While filling application form, make sure to select at least 4 exam cities in the order of your preference. NEET 2020 examination is likely to get conducted in 154 cities in approximately 2546 exam centers in 64000 exam halls along with 128000 invigilators (according to the 2019 statistics). Applicants will be allotted the examination center based on their first given preference, in general. In case of insufficient center, you'll be allotted next preferred center.
Note: The exam center choice of NEET 2020 cannot be changed or modified after form submission. You must carefully enter your choice accordingly.
NEET 2020 Test Cities along with Exam City Codes are tabulated below:
| | |
| --- | --- |
| Exam City | Exam City Code |
| Vijayawada | 1205 |
| Visakhapatnam | 1206 |
| Chandigarh/Mohali/Panchkula | 1601 |
| Bhilai/Durg/Bhilai Nagar | 1701 |
| Bilaspur | 1702 |
| Delhi/New Delhi | 2001 |
| Ahmedabad | 2201 |
| Bangalore | 2702 |
| Trivandrum | 2811 |
| Mumbai | 3110 |
| Nagpur | 3111 |
| Jaipur | 3903 |
| Chennai | 4101 |
| Coimbatore | 4102 |
| Varanasi | 4411 |
| Lucknow | 4408 |
NEET 2020 Application Form Correction
NTA also provides the provision of NEET Application Form Correction. In case you have filled any wrong information then you can correct it from 3rd week of January till last week of January 2020. The NEET 2020 application form correction will be done through online mode only and you will be notified through SMS regarding correction. Listed below are details eligible for editing –
Date of Birth (D.O.B)

Identification

Gender

State Code

Category

Exam Medium

Exam Center

Disability Status

Exam Qualification or Percentage

Parents' Name
NEET 2020 Exam Pattern
The NEET examination pattern will indicate important exam details like mode of examination, duration, exam language, types of questions asked in examination, marking scheme etc. Exam pattern reveals a lot about what to expect in the exam hall while appearing for the exam. You must prepare according to the NEET exam pattern.
The key details related to NEET 2020 exam pattern are mentioned below
Exam Mode: Pen and Paper Mode

Duration: 3 Hours

Exam Language: English, Hindi, Tamil, Assamese, Bengali, Gujarati, Kannada, Oriya, Urdu, Marathi and Telugu

Subjects: Physics, Chemistry, Botany and Zoology

Types of Questions: Objective (MCQs)

Marking Scheme: +4 marks will be awarded for the right answer

Negative Marking: 1 mark will be deducted for the wrong answer
Tabulated below is the distribution of number of questions & marks for each subject:
| | | |
| --- | --- | --- |
| Subjects | No. of Questions | Marks |
| Physics | 45 | 180 |
| Chemistry | 45 | 180 |
| Biology (Botany or zoology) | 90 (45 – 45 each) | 360 |
| Total | 180 | 720 |
NEET 2020 medium of exam
The National testing agency will conduct the NEET 2020 exam in two national and eight regional languages. Tabulated below are the languages of NEET 2020 UG exam:
NEET 2020 Exam Languages
S. No.

Language

S. No.

Language

1.

Hindi

7.

Telugu

2.

English

8.

Oriya

3.

Assamese

9.

Kannada

4.

Marathi

10.

Bengali

5.

Gujarati

11.

Urdu

6.

Tamil

--
NEET Admit Card 2020
The National testing agency will release the NEET 2020 admit card on March 27, 2020. It is mandatory for students to carry a valid photo ID proof along with the admit card to the examination centers. Applicants can download their admit card by entering their application number and date of birth. After downloading they must check all details mentioned therein. Make sure to keep safe your admit card till the admission and counselling procedure concludes. It also has your exam day guidelines.
Steps to Download the NEET 2020 admit card are given below:
Go to the official website of ntaneet.nic.in and log in using your credentials.

Enter your "Registration Number", "Date of Birth" & "Security Pin" and click on the submit option.

The download link for NEET 2020 admit card will get displayed on your computer or mobile screen.

Click on the link to download admit card.

Take Printout of your admit card in advance and keep it safely in your home.
Important Details Mentioned on NEET 2020 Admit Card:
Name of the Candidate

Roll Number

Father's Name

Category

Sub-Category

Date of Birth

Photograph

Signature

Language of Question Paper

Name and Address of examination center allotted to candidate

Exam Date & Timing, etc.
NEET Dress Code 2020
National testing agency has specified dress code that candidates must be adhere to while appearing for NEET 2020. The course of action has been in place to safeguard that no malpractices; occur in the exam halls.
Listed below are guidelines for NEET 2020 dress code:
Full sleeves t-shirt or shirt are not allowed, candidates must wear the half sleeve shirts/t-shirts.

Wear light weight clothing without any big buttons, zippers or any elaborate embroidery.

Female aspirants should avoid outfits with embroidery, brooches and buttons. Salwars / Kurta and trousers are acceptable.

Shoes are not allowed. Slippers or sandals with low heels are acceptable in the examination hall.

Not metallic item or ornaments are allowed in the examination hall such as earrings, ring, pendants, nose ring, necklace etc.
Items barred in Examination hall
Textual material, rough papers, Geometry Box, Plastic Pouch, Calculator, Scale, Writing Pad, Pen Drives, Log Table, Electronic Pen/Scanner etc.

Devices like Mobile Phone, Bluetooth, Earphones, Microphone, Pager, Health Band etc.

Wallet, Goggles, Handbags, Belt, Caps, Watches/Wrist Watches, Bracelets, Camera, etc.

Any ornaments.

Any eatable item opened or packed.

Water bottle.
NEET 2020 Syllabus
The NEET 2020 syllabus is prescribed by the medical council of India. Tabulated below are the important topics of syllabus from the subject physics, chemistry, zoology and botany.
Class 11th Syllabus

Class 12th Syllabus

Physics

Physical world and measurement

Electrostatics

Kinematics

Current Electricity

Laws of Motion

Magnetic Effects of Current and Magnetism

Work, Energy and Power

Electromagnetic Induction and Alternating Currents

Motion of System of Particles and Rigid Body

Electromagnetic Waves

Gravitation

Optics

Properties of Bulk Matter

Dual Nature of Matter and Radiation

Thermodynamics

Atoms and Nuclei

Behaviour of Perfect Gas and Kinetic Theory

Electronic Devices

Oscillations and Waves

Chemistry

Some Basic Concepts of Chemistry

Solid State

Structure of Atom

Solutions

Classification of Elements and Periodicity in Properties

Electrochemistry

Chemical Bonding and Molecular Structure

Chemical Kinetics

States of Matter: Gases and Liquids

Surface Chemistry

Thermodynamics

General Principles and Processes of Isolation of Elements

Equilibrium

p- Block Elements

Redox Reactions

d and f Block Elements

Hydrogen

Coordination Compounds

s-Block Element (Alkali and Alkaline earth metals)

Haloalkanes and Haloarenes

Some p-Block Elements

Alcohols, Phenols and Ethers

Organic Chemistry- Some Basic Principles and Techniques

Aldehydes, Ketones and Carboxylic Acids

Hydrocarbons

Organic Compounds Containing Nitrogen

Environmental Chemistry

Biomolecules

Polymers

Chemistry in Everyday Life

Biology

Diversity in Living World

Reproduction

Structural Organization in Animals and Plants

Genetics and Evolution

Cell Structure and Function

Biology and Human Welfare

Plant Physiology

Biotechnology and Its Applications

Human physiology

Ecology and environment
Best Books for NEET 2020 Preparation
NCERT books are must to follow before referring to any other book. For further practice tabulated below are the books for NEET 2020:
| | |
| --- | --- |
| Physics Books | Publications |
| The concept of Physics | H. C. Verma |
| Objective Physics | D. C. Pandey |
| Fundamental Physics | Pradeep Publications |
| Chemistry Books | Author |
| Chemistry | R K Gupta |
| Physical Chemistry | O P Tandon |
| Organic Chemistry | Morrison and Boyd |
| | |
| --- | --- |
| Biology Books | Author |
| Biology Volume 1 and 2 | Trueman |
| Biology | Pradeep Publications |
| Objective Biology | Dinesh |
NEET 2020 Result
The result of NEET 2020 will be released in the final week of May 2020. Students can check their NEET results on the official website of NTA NEET. Before the declaration of the result, the NEET 2020 answer key will be released by the NTA. You can match your answers with the given answer key to check whether or not you'll be able to qualify the NEET 2020. Also, in case of any discrepancies in the answer key applicants can also challenge the NEET answer key on a fee of INR 1000 per answer which may be refunded if NTA accepts the representation. The NEET 2020 result will be applicable for admissions in all the medical colleges in India not including AIIMS and JIPMER since they conduct their admission exams. Make sure to download your results for their future reference.
How to Calculate NEET Score and Rank with the help of Answer key?
You can calculate your expected NEET score and rank utilizing the NEET 2020 answer key, as soon as it gets released. It will help you tally your answers before the NEET Result is released. The NEET 2020 marking scheme is given below-
Total Marks = 180 MCQs X 4 = 720 Marks

For every correct answer: 4 marks

For marking the wrong answer: - 1 is deducted

No mark is deducted for un-attempted questions
Simple Formula to calculate your NEET scores:
NEET Score = (Total number of correct answers x 4) – (Total number of incorrect answers x -1)
How to check the NEET 2020 Result?
Follow the instructions given below to check your NEET 2020 result online.
Step-1: Visit the official website of NTA NEET.
Step-2: Click on the link which says, 'NTA NEET Result 2020'.
Step-3: As the link will open, simply enter your personal credentials including the application number, date of birth, etc.
Step-4: After providing the required necessary details, click on 'Submit'.
Step-5: Your personal NTA NEET Result 2020 will be displayed on the screen.
Step-6: Make sure to download the result and take a print out for future references.
NEET 2020 Cut off
NEET Cut Off 2020 will release along with the exam results announcements. Cut-off list will showcase the minimum qualifying marks for the medical entrance exam. Students from Andhra Pradesh and Telangana can also participate in 15% All India Quota Counselling. For the students belonging to open category (General), they must score a minimum of 50 percent percentile. For students belonging to the reserved including SC and ST category, the minimum marks are 40 percentile. For candidates with PwD, it is 45 percentile. Take a look at below table:
| | |
| --- | --- |
| Category | Cut off |
| General | 50% |
| General – PH | 45% |
| Other categories | 40% |
---
NEET 2020 Counselling
As soon as the NEET 2020 result is released, the official roster for NEET counseling will be uploaded on the Medical Counselling Committee (MCC) homepage. The counselling is conducted by Directorate General of the Health Services of the Medical Counselling Committee. The admission procedure for under-graduate MBBS and Dental courses will be done as per the NEET Medical merit list 2020 and NEET Dental merit list 2020. 15% of All India quota counselling seats are reserved for central institutions such as BHU, AMU, AFMC, ESI, Delhi University (DU), and Deemed Universities. The counselling procedure for session 2020-21 will begin in the 1st week of June 2020. As per the NEET 2020 merit list, remaining seats allocation will be done by State Medical Institutions or Colleges or Universities which are under the State Government and authorities of Dental or Medical counselling process. Students who resign or do not appear for the seat allotted in the counselling process won't be able to further participate in the NEET Counselling.