Prime Minister Narendra Modi on Friday addressed a conclave on National Education Policy, NEP 2020.
The conclave was organized by the Ministry of Education [formerly HRD ministry] and University Grants Commission [UGC].
The conclave was attended by the Education Minister [formerly HRD Minister] Dr. Ramesh Pokhriyal 'Nishank', Minister of State Sanjay Dhotre, including, Chairman of Committee for Draft NEP Dr. Kasturiraganan, Prof. MK Shridhar, vice-chancellors, principals and heads of higher education institutes, Lucknow University, and BITS Pilani.
PM Modi joined the conclave via video conferencing.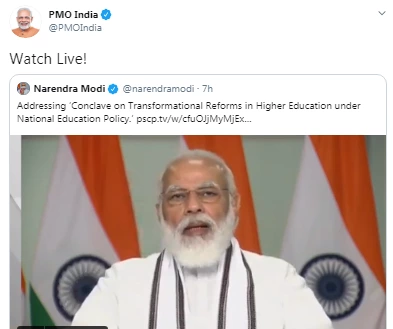 Key Highlights from the Conclave on National Educational Policy
PM Narendra Modi in his introductory address said, "Today the new education policy is widely discussed across the country. People from different fields, ideologies are giving their views and reviewing the policy. This is a healthy debate that will benefit the country's education system. National Education Policy has been approved after a long brainstorming session with millions of suggestions and after 3-4 years of extensive deliberations."
Highlighting the key reforms introduced by the National Education Policy, NEP 2020, PM Narendra Modi said the new NEP 2020 emphases on 'how to think', while the education system till now in the country emphasized on 'what to think'.
Referring to the new National Education Policy as the foundation of "New India," the PM Modi has asked all stakeholders to primarily focus on the implementation of new changes introduced under the new policy.
"NEP has given rise to a healthy debate and the more we discuss and debate the more it will benefit the education department. It is palpable that questions will arise on how this huge plan will be implemented. We all will together do this implementation.
Each one of you is directly involved in the implementation of the NEP. In terms of political will, I am totally committed and with you," he said in his speech in Hindi.
"After the National Education Policy was released, no section of the country said that the policy is biased. It is a matter of happiness," the PM added.
He said that now all eyes are on the implementation of such a big reform in the education sector.
The objective of this policy is to keep its current and next generations future-ready, he added.
Talking about the multi-disciplinary programmes and multiple entries and exit options, the PM said, "Every student should get an opportunity to follow their passion. They can pursue any degree or course and can leave according to their convenience and requirement without any loss of credits."
Remembering the death anniversary of Guru Rabindranath Thakur, Modi said that he used to say that the highest education is that which not only informs but brings life in harmony with all existence. Modi said, "This is certainly the larger goal of the National Education Policy."
PM Modi's address concludes
Prime Minister concluded his address by thanking everyone who has worked hard towards the implementation of the new education policy and invited everyone to contribute to shaping the future of 21st century through this policy
PM Modi quoted Dr. APJ Abdul Kalam, 'Purpose of education is to make good human being with skill and expertise'.
Remarks from Sanjay Dhotre – Minister of State
Sanjay Dhotre Minister of State for Education Communications, Electronics & IT, was also present during the conclave.
He said, "Even after getting a degree, students lack life skill which is needed for employment. We have included 21st century life skills in New Education Policy, which will be taught to students from school-level so that they are job ready."
Remarks from Dr. Kasturirangan
The National Research Foundation will work closely with the National Educational Technology Forum (NETF) to enable scientific steps to include technology in the education system, says K Kasturirangan, an Indian space scientist and chairperson of the drafting committee of the New Education Policy 2020.
Understanding the National Education Policy, NEP 2020
The National Education Policy (NEP) seeks to transform education for almost 300 million students in India.
The policy lays down wide-ranging reforms that will impact every student- right from the first playschool to an ambitious post-graduation student considering a PhD programme.
The New Education Policy is breaking down the existing structure of India's K-12 education.
There's no more 10+2 system i.e. ten years of basic schooling followed by two years of higher secondary education.
All schools in India will now follow the 5+3+3+4 structure.
The first five years of a child from age 3 to 8 will be the foundational stage. Since, the maximum development of brain happens at these ages, the course curriculum will focus on learning various languages, playing, and learning activities.
After 5 years of this, these children will enter 3rd class, now the focus of learning and education in schools will shift to discovery, and interaction-based classroom learning.
The linguistic and mathematical ability skills will be refined at this stage.
One contentious point here was the medium of learning.
There was some misunderstanding that classes till 5th class would be taught strictly in the local language predominant in the region.
Nevertheless, that's not entirely accurate.
As per the new policy, "Wherever possible, the medium of instruction until at least Grade 5, but preferably till Grade 8 and beyond, will be the mother tongue...
Thereafter, the home/local language shall continue to be taught as a language wherever possible.
This will be followed by both public and private schools."
So this phrase 'wherever possible' clearly gives some wiggle room to schools.
Overall, 3 languages are to be taught to students and whereas States can decide what to pick, 2 of these languages must be native to India.
Nevertheless, as soon as these students get to 6th class, the pedagogy will evolve.
It will now evolve to more experimental learning in the Maths, Science, Arts, Social Sciences and Humanities.
At this stage, students will also be introduced to vocational training – they'll be taught technical skills that will allow them to take up jobs in specialized trades or crafts like pottery or carpentry.
In fact, they'll also have under-go a ten-day internship with the local experts. This will carry on till students get to 9th class.
Once there, they will be exposed to multidisciplinary studies where they get to pick the subjects, they like from the ones available.
Students now no longer require picking up the streams. Students can choose to study Biology along with Sanskrit, or Computers along with Economics, and the schools will have to accommodate the students.
Even vocational courses will be given as much importance as academic studies.
What about the Board Exams?
Of course, while introducing such mega changes, something must be done regarding those career-defining assessments that make students tremble around all across the country - Board Exams.
Unfortunately, the New NEP does not discontinue board exams. However, it does decrease their significance and make them easier.
Moreover, students will be able to write the board exams again if they think there's a chance of improvement.
Thus, the new NEP 2020 does bring flexibility into the education system.
Now the Higher Education
The National Testing Agency, NTA, has been charged with holding Common Entrance Test, CET, for admissions into Higher Educational Institutes, HEIs, all across the country.
These will be a standardized test, similar to the Scholastic Assessment Test, SAT, which is applied for university admissions in the United States.
Once selected for HEIs, students will enrol in a 3 or 4 year undergraduate degree, with an option of exiting the course whenever they wish to.
Students, who complete one year, will be awarded a certificate. Students who complete two years will be given a diploma.
If a candidate completes the entire three or four years of the course than such candidates' will be granted a degree.
Likewise, a student completes a 4-year programme along with the research work, then he or she will be eligible for Ph. D.
Another thing worth noting here is the Academic Bank of Credit (ABC).
The ABC will store the academic credits that candidates earn by taking courses from various recognized HEIs.
Each time a student completes a course, a set number of credits will be added to his or her ABC. Students can transfer these credits if they choose to change colleges.
And even a candidate is forced to drop out for some reason, the credits will remain intact. It implies students can come back years later and continue learning from where they left off.
Another interesting thing the NEP focuses on is the necessity to make colleges multidisciplinary.
Meaning, all HEIs are now expected to teach everything from Science, Management and Arts to Economics, Music and Law, etc. under one umbrella.
By 2040, the central government also seeks to remove the single-stream institutions in favour of new education policy 2020.
Last week, the Union Cabinet approved the new National Education Policy 2020.
The NEP 2020 has substituted the 34 year old education policy, which was implemented in 1986.
The Takeaway
The ultimate goal of the new NEP 2020 is to make India 'superpower' of knowledge in the world.
On the ending, it can be said that NEP is well thought out; however, implementation is key as always. We'll have keep patience and see how things turn out.
Suggested Reading - New National Education Policy 2020: Know Highlights and Major Changes
Stay tuned with Doubtnut for latest updates from Education Ministry.