At Doubtnut, teaching is not just a profession; rather it is a service to provide quality study material to students. It is the commitment and duty to offer students most authentic and highly reliable study materials. When we first introduced the Doubtnut, we aimed at facilitating a dedicated platform for maths learning. We wanted one thing – To make maths fun. We have been covering every aspect of mathematics, especially, the student's doubts. Before long, Doubtnut has been your go to solution to resolve any Maths problem within a few seconds. From simple BODMAS related queries to the complexities of trigonometric equations; it has been a delightful experience to be a part of your learning journey. With the growth in our online community, we felt that students wanted more from us. Doubtnut App and Doubtnut YouTube channel received huge response from students across the country, there were several comments of students demanding Physics and Chemistry preparatory material alongside mathematics. Eventually, after thorough analysis and research Doubtnut has launched Physics & Chemistry Solutions for CBSE Class 11 & 12 and IIT-JEE. It is the next big step to reiterate our ambition of offering a holistic and all-round learning platform of students.
Click here for Physics and Chemistry Solutions on your mobile
Physics and Chemistry Solutions Launched
Doubtnut has launched Physics and Chemistry solutions. Doubtnut has transformed into an all-inclusive e-learning platform with free access to Physics, Chemistry and Maths solutions, for your CBSE board exams and IIT-JEE preparations. Now you can access video tutorials class-wise, chapter-wise and book-wise Physics & Chemistry complete Solutions for CBSE Class 11 & 12 students and IIT-JEE aspirants.
But, here is a catch! To unlock the Physics and Chemistry solutions, all you have to do is just complete 5 simple steps. Starting from profile completing to watching library videos at every step you will be earning some reward points. As soon as you have scored 150 points on the Doubtnut App – You can get your hands on specialized video lectures, tutorials, detailed notes and interactive preparatory material on physics and chemistry. The solutions are prepared exclusively for CBSE class 11 and 12 students, to make the Physics and Chemistry learning fun and interesting.
Stay up-to-date with the latest at Doubtnut:
While designing the physics and chemistry course, we exclusively focused on clubbing the theoretical concepts with numerical problems; keeping in mind the changing trends of competitive examination. Be it CBSE board exam preparation, IIT-JEE Main preparation or you have simply missed your last lecture in school - the doubtnut can be your go to solution. Here is why?
Get pre-recorded video solutions from all the popular books of Physics and Chemistry including NCERT text book and other competitive examination books.

The tutorials are professionally tailored in easy to understand Hindi-English (Hinglish) language. Because we don't want the language to be a barrier in your learning.

Physics and Chemistry video lectures offer you freedom of learning at your own pace. You can anytime re-open or rewind the tutorial to learn as per your own leisure in the comfort of your own home.
Physics & Chemistry Solutions for CBSE Class 11 & 12 and IIT-JEE aspirants
Get access to comprehensive study material for Physics & chemistry board exam and IIT-JEE preparation by best seasoned professionals in the industry. It provides detailed answers and alternative methods of solving the questions, smart tricks and special tips to help the students in their academics. These solutions help the students by providing a strong foundational knowledge of the subject. It will help in making all the concepts clearer and simpler to understand. Both Chemistry and Physics have a reputation of a complex subject. Most of the students find difficulties in understanding the basic concepts of the particular subjects. Therefore, team Doubtnut brings to you meticulously designed Physics and Chemistry solutions for class 11th and 12th. Students can refer to these solutions before their board and competitive exams as it would help them by providing great guidance. We have covered meticulously covered all the important books, previous year question papers and study material from various reputed institutes. Students can utilize these physics solutions as a guideline to prepare for their exams. Here we have provided complete chapter-wise solutions. The solution has been compiled from various sources. We have also kept in mind the requirements of students to prepare for both board and competitive exams. The topics which are unique to both the board exams and competitive exams have also been covered separately.
You can start learning with chapter-wise video tutorials of Physics and Chemistry book mentioned below: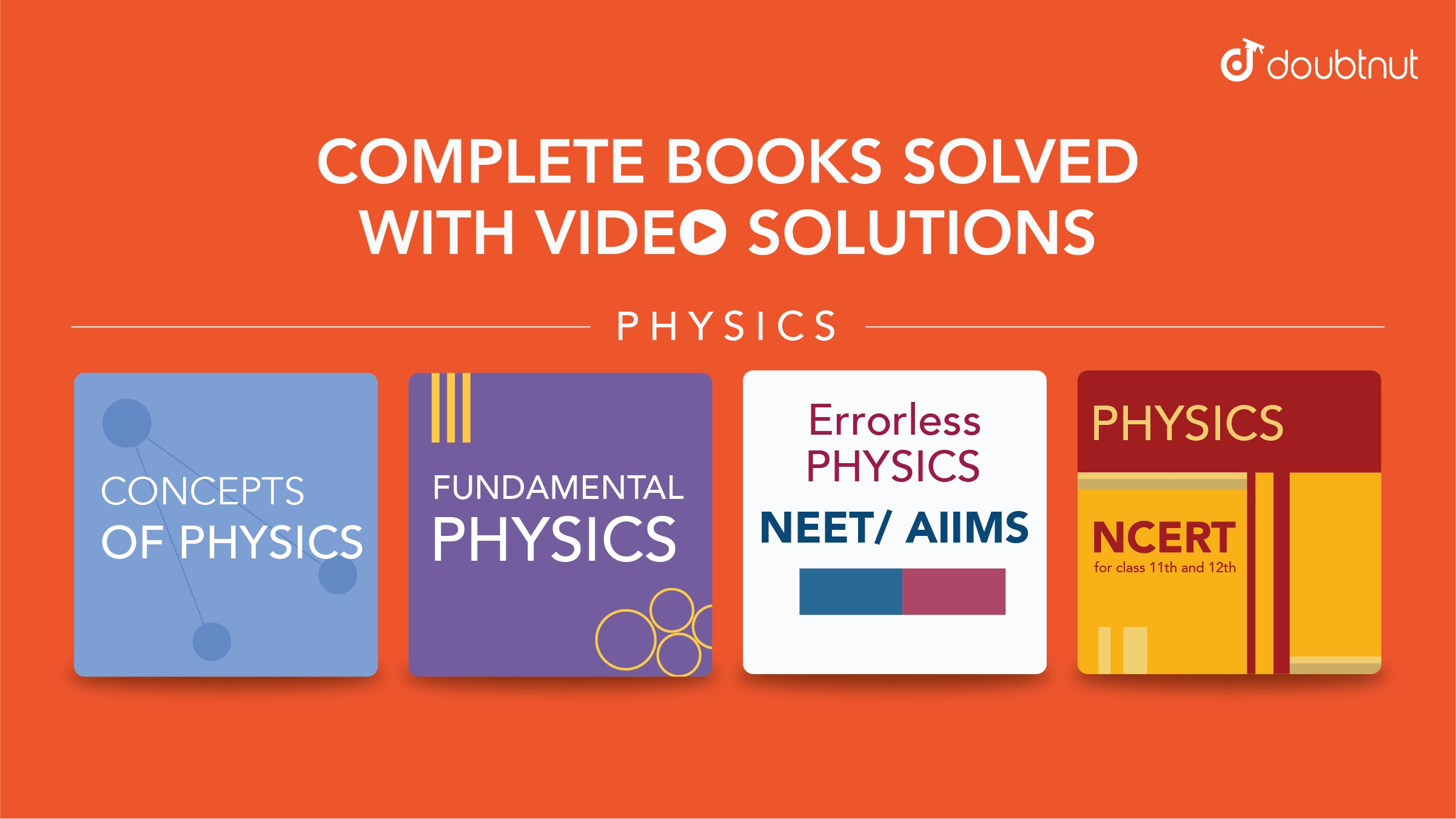 Physics: HC VERMA, SUNIL BATRA, DC PANDEY, CENGAGE PHYSICS, A2Z,PRADEEP, NEERAJ GUPTA, IE IRODOV, CP SINGH, CENGAGE PHYSICS DPP, ANURAG MISHRA,ERRORLESS PHYSICS, NCERT TEXTBOOK FOR PHYSICS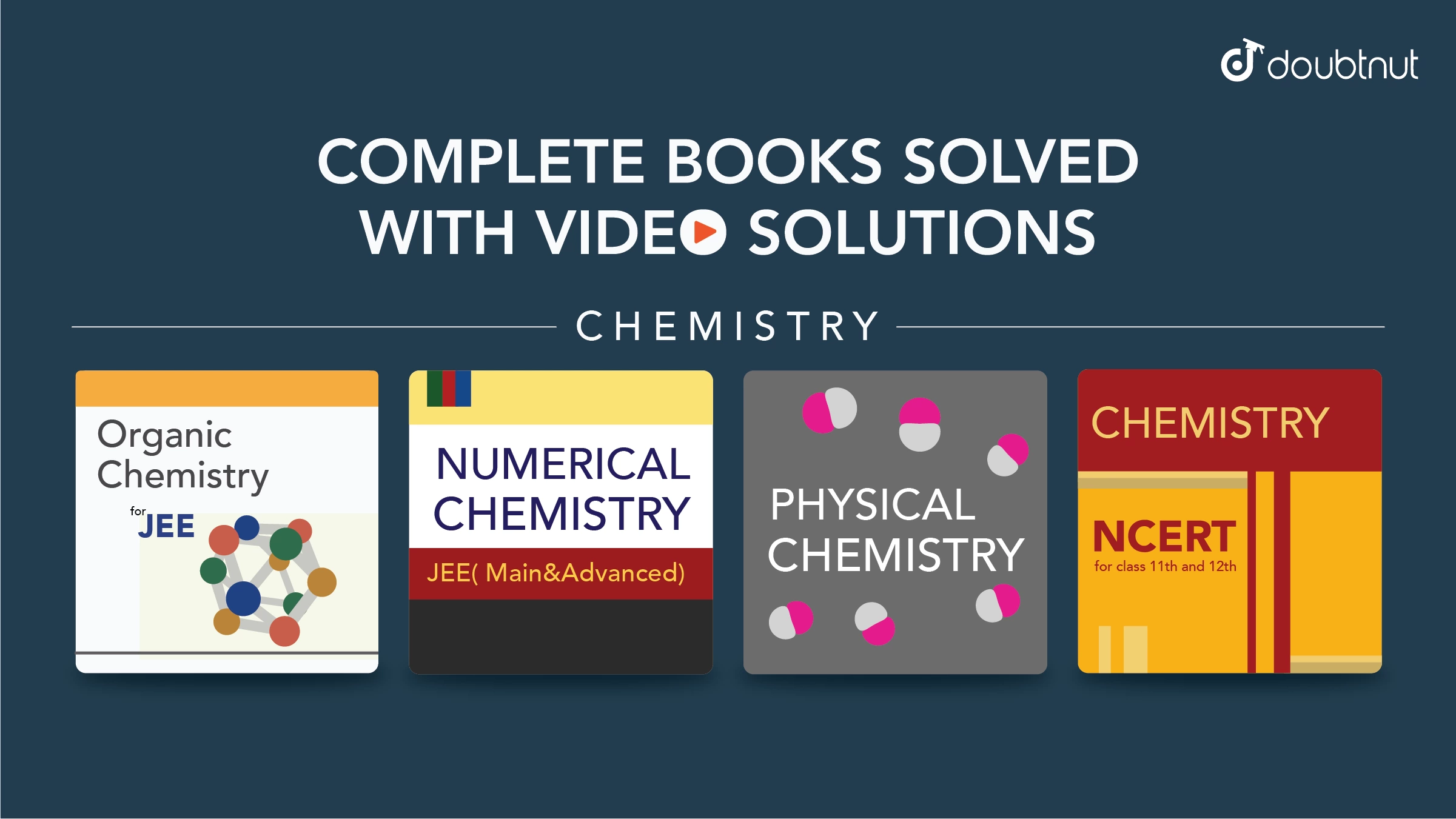 Chemistry: CENGAGE CHEMISTRY, P BAHADUR, A2Z, NARENDRA AWASTHI, MS CHOUHAN, HIMANSHU PANDEY, DINESH COMPANION CHEMISTRY, NCERT TEXTBOOK FOR CHEMISTRY
One Stop Solution for IIT-JEE Preparation
After class 11th and 12th board examination, the ultimate and the most important exam will be the IIT-JEE or medical examinations. So, the CBSE board exams act as a trial run for the competitive exams. Doubtnut has established itself as a leader in offering e-learning solution in IIT-JEE preparation. Our esteemed faculty of IIT-JEE examination experts have put tremendous efforts to bring out a very well structured study material for IIT JEE preparation, which is available free of cost on our website and app platform. It is our continuous effort to make all preparatory material as comprehensive as possible. Physics and Chemistry solutions are arranged chapter-wise and within each chapter they are arranged by topic-wise. Video tutorials are enriched with relevant graphics for effective understanding. It features appropriate diagrams wherever necessary. Solutions are prepared keeping in mind latest CBSE guidelines for each topic of syllabus. We have logically organized study material into sub-topics for quick & thorough understanding. Doubtnut has done much to elucidate the theoretical concepts through the solutions for an immersive learning experience. We have also provided various Chemistry and Physics module papers of prominent coaching institutes (Allen, Bansal, FIIT JEE etc.), sample papers and previous years IIT-JEE question papers for effective IIT-JEE preparation.
Get Started with Doubtnut Now!
With Doubtnut app explore new & simpler way of learning. We are India's leading online learning destination for students of class 6th, 7th, 8th, 9th, 10th, 11th and 12th. With highest 4.4 Google Play store rating 'Doubtnut App' offers downloadable/Sharable Maths, Physics and Chemistry solution in self-explanatory video tutorials formats. Learning is 100% FREE.
Go Check Out Now!