Tamil Nadu Class 10 Result 2020 Out Now: The Tamil Nadu Directorate of Government Examination, TN DGE has announced the TN Secondary School Leaving Certificate, SSLC Result at its official website i.e. tn [dot] results [dot] nic [dot] in.
More than 9 lakhs students who appeared in SSLC examinations can check their result now.
Students can check out their result by entering their registration number and date of birth.
This year, due to COVID-19 [Novel Corona Virus] pandemic, around 9.7 lakh students were promoted to the next grade based on a special scheme, as the TN SSLC exam was cancelled following the Madras High Court order.
The examinations were scheduled to be held from 27 March 2020 to 13 April 2020. The DGE TN has decided to pass all the candidates.
This year, the class 10 result of Tamil Nadu remained 100%.
The evaluation was done based on the internal assessment [quarterly and half-yearly marks] and attendance of the students.
TN 10th Results 2020: Statistics and Highlights
1. Students registered: 9,76,019
2. Students appeared: 9,37,859
3. Overall Pass Percentage: 95.2% (8,92,521)
4. Boys-Pass Percentage: 93.3% (4,37,956)
5. Girls Pass Percentage: 97.0% (4,54,565)
6. Mode of Declaration of Result: Online
7. Credential Required: Candidates' Roll Number & Date of Birth
8. Tamil Nadu Class 10 Result Official Website: dge[dot]tn[dot]gov[dot]in
100% Result This Year
The DGE, TN, has promoted all the students in class 10 with recorded 100% pass percentage.
Number of Students Appeared
Overall, 939829 students had appeared for the class 10 examinations.
1. Number of Male Candidates: 471759
2. Number of Female Candidates: 468070
In total, 6235 specially-abled candidates have also qualified the examination.
TN class 10 District-wise result
Out of all the districts in Tamil Nadu, Kanyakumari has topped with the best pass percentage.
Given below are the top-performing districts –
1. Kanyakumari
2. Tirunelveli
3. Tuticorin
4. Ramanathapuram
5. Sivagangai
No Merit List for 2020 Result
Tamil Nadu DGE has not released any topper's list of state merit list.
TN SSLC Result 2020- How to download the mark-sheet?
Students will be able to download the provisional TN Class 10 mark sheets from the official website- DGE, TN.
Follow the steps given below to download the TN class 10 result 2020:
Step 1: Open the official website of Government of Tamil Nadu Directorate of Government Examinations i.e. tnresults [dot] nic [dot] in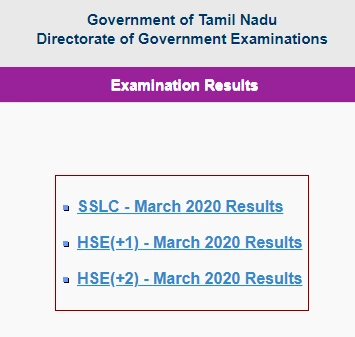 Step 2: Click on the link that reads – "SSLC - March 2020 Results". You will be redirected to a new window.
Step 3: Here enter your SSLC "Registration Number" and "Date of Birth [dd/mm/yyyy]".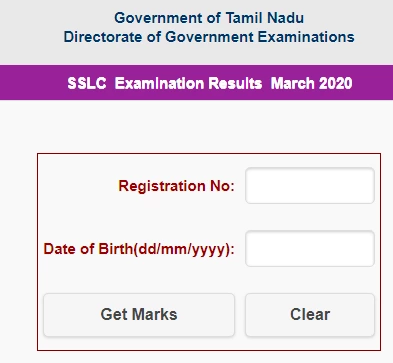 Step 4: Click on the "GET RESULT" option to check result or else "CLEAR" button to re-enter.
Step 5: As you'll tap on the "Get Result" option your SSLC result will appear on the screen.
Make sure to download the same and keep its print out safe for the future reference.
The TN class 10 result 2020 will be available in the form of a provisional mark sheet on the official website.
Important Details mentioned on the Tamil Nadu SSLC Result
The result will have the basic details of a student along with class 10 marks and student's qualifying status.
Students can collect the mark-sheet from their respective schools. The following details will be mentioned of the TN class 10 result mark sheet:
1. Candidate's name
2. Name of the School
3. Name of the Class
4. Registration number
5. Date of birth
6. Subject-wise marks obtained
7. Overall marks secured
8. Division and Grade
How to Check Tamil Nadu Class 10 Result via Mobile App?
An alternative to the official website of Tamil Nadu Board, students can also access their SSLC result via the app. Given below is the step-by-step instruction for the same –
Step 1: Install the TN SSLC result app from Google Play store on your phone.
Step 2: Open the app and tap on the result link.
Step 3: Enter your registration number and date of birth [dd/mm/yyyy]
Step 4: Click on the submit option and your TN SSLC result 2020 will appear on the display.
SSLC Result - Minimum passing marks
Class 10 students must secure a minimum of 35 marks out of 100 in every subject to pass the examination.
For subjects with practical and theory examination, students must score 20 out of 75 marks in theory exam and 15 out of 25 marks in the practical exam.
TN Class 10 result 2020 – Grading System
Tabulated below are the grades and grade points for all the subjects. Candidates can refer to the same while calculating their GPA scores:
| | | | |
| --- | --- | --- | --- |
| Grade | Grade Point | Marks obtained in the 1st, 3rd and Non-Language subjects | Marks obtained in the 2nd language subjects |
| A1 | 10 | 91-100 | 90-100 |
| A2 | 9 | 81-90 | 79-89 |
| B1 | 8 | 71-80 | 68-78 |
| B2 | 7 | 61-70 | 57-67 |
| C1 | 6 | 51-60 | 46-56 |
| C2 | 5 | 41-50 | 35-45 |
| D | 4 | 35-40 | 20-34 |
| E | - | 0-34 | 00-19 |
Mark Sheets to be Available 17 August 2020 Onwards
The Temporary mark sheets will be issued by the TN board at schools from 17 August 2020 to 21 August 2020.
Re-evaluation Process
If any class 10 student has an issue with their result then he/she can submit the rechecking/ re-evaluation forms from 07 August to 25 August 2020.
Students can apply for the re-evaluation process online by paying INR 250 as the application fee.
Note that only the increase in marks will be taken into consideration.
Tamil Nadu Class 10th Compartment Exam 2020
Students who were unable to pass in one or two subjects can apply for Tamil Nadu 10th compartment examinations. You can apply for TN compartment exams through their respective schools.
The TN DGE will conduct compartment exams in August 2020, tentatively.
Final word
Earlier, the Tamil Nadu SSLC examinations were cancelled due to COVID-19 [Novel Corona Virus] pandemic.
In general, the DGE declares the result in April, however, this year; the result got delayed due to the Corona Virus crisis.
All schools and colleges across the country are closed till 31st August 2020.
Keep visiting Doubtnut for Tamil Nadu class 10 and 12 Board Examination related latest news and updates!