The Union Public Service Commission (UPSC) has released the UPSC Result 2019 online on 04 August 2020.
As per the official press release by the government, total 829 candidates are shortlisted for the appointment to the 927 vacancies listed under UPSC CSE 2019 examination, i.e. IAS, IPS, IRS, IFS, etc.
The candidates have to undergo three rounds of the assessment procedure.
The UPSC preliminary and UPSC main examinations were conducted in June and September 2019, respectively.
After the candidates qualified the exams, few of the interviews were conducted in March 2020.
However, due to the Novel Corona Virus (COVID-19) pandemic and the subsequent countrywide lockdown imposed on 24 March 2020, the Commission had decided to reschedule the interviews and medical examinations from 21 July 2020 to 04 August 2020.
In 2018, 759 candidates had cleared the Union Public Service Commission, UPSC examination.
UPSC Result 2019: Major Highlights
In the general category, 304 students have successfully qualified for the IAS 2019 exam. In the Economically Weaker Section, EWS quota category, 78 candidates have made it, which was started last year only.
In the Other Backward Class, OBC, Category 251 candidates remained successful, 129 in the Scheduled Caste category and 67 in the Scheduled Tribe category.
The candidature of 66 aspirants is provisional.
Also, the result of 11 candidates is kept withheld.
UPSC 2019 Vacancies
Out of 927 vacancies to be filled, 180 vacancies are available for IAS rank, 24 for IFS rank, 150 for IPS rank, 438 vacancies for Central Services Group 'A' and 135 vacancies for Group 'B' services.
The candidates are recommended appointment as per the breakup – General - 304, EWS - 78, OBC - 251, SC – 129 and ST - 67 Candidates
The selected candidates will be appointed in the listed department/ services:
Indian Administrative Service (IAS)

Indian Foreign Service (IFS)

Indian Police Service (IPS)

Central Services, Group 'A' and Group 'B'
Prime Minister's Tweet for All UPSC Aspirants
Prime Minister Narendra Modi also Tweeted after the release of the UPSC 2019 result –
"For those youngsters who did not get the desired result in the Civil Services Examination, 2019, I would like to tell them- life is full of several opportunities," Modi Tweeted.
"Each and Every one of you is hardworking and diligent. Best wishes for all your future endeavors," Prime Minister Added.
UPSC IAS 2019 Topper
The IAS toppers will be appointed to the services/posts based on their preference, while, others will get a post/ position as per their rank.
The UPSC will release the marks and cut off scores within 15 days of the IAS result declaration on its official website, i.e. upsc[dot]gov[in].
Earlier, UPSC 2019 interviews were held in February and August 2020. This year, the UPSC final result was delayed amid the COVID-19 pandemic situation.
The written exam result of UPSC 2019 was announced in September 2019.
UPSC IAS 2019 Topper: Pradeep Singh topped the IAS 2019 exam, followed by Jatin Kishore who secured the 2nd rank and Pratibha Verma stood 3rd in the UPSC result 2019.
Pradeep Singh from Haryana is currently under training as an Indian Revenue Service Officer in Faridabad.
As per the Press Trust of India, Singh is the son of a farmer.
"I was quite confident I will get through, but I never expected the first rank," Singh told a leading news agency.
"This is unbelievable, my parents are ecstatic."
Pradeep Singh's first preference is to join the Indian Administrative Services.
The UPSC 2nd ranker, Jatin Kishore is from Delhi, while Pratibha Verma is from Uttar Pradesh.
Verma said, "I'm super excited".
"I have not been able to put down my phone and my family is pouring in from all over to congratulate me. This was highly unexpected."
Verma is resident of Sultanpur, Uttar Pradesh. She has chosen IAS as her first choice as well.
Both her parents are teachers. Her father retired recently from the teaching service and her mother continues to teach in a primary school.
"My optional subject was physics," said Verma.
Top 20 - UPSC Toppers of 2019:
As per the official list of toppers released on the upsc[dot]gov[in], in the top 25, there are 13 male candidates and 12 female candidates who have passed the exam.
Rank 1: Pradeep Singh
Rank 2: Jatin Kishore
Rank 3: Pratibha Verma
Rank 4: Himanshu Jain
Rank 5: Jeydev C S
Rank 6: Vishakha Yadav
Rank 7: Ganesh Kumar Baskar
Rank 8: Abhishek Saraf
Rank 9: Ravi Jain
Rank 10: Sanjita Mohapatra
Rank 11: Nupur Goel
Rank 12: Ajay Jain
Rank 13: Raunak Agarwal
Rank 14: Anmol Jain
Rank 15: Bhosle Neha Prakash
Rank 16: Gunjan Singh
Rank 17: Swati Sharma
Rank 18: Lavish Ordia
Rank 19: Shrestha Anupam
Rank 20: Neha Banerjee
Here is the Notification released on the Official Website of UPSC i.e. upsc[dot]gov[in]:
Candidates can obtain any information/clarification regarding their examinations/recruitment on the working days between 10:00 hours and 17:00 hours in person or over telephone nos. 011- 23385271 / 23381125 / 23098543, the Commission said.
The UPSC has a facilitation counter near examination hall on its campus.
"Marks will be available on the website within 15 days from the date of declaration of results," the Commission said in its official press release.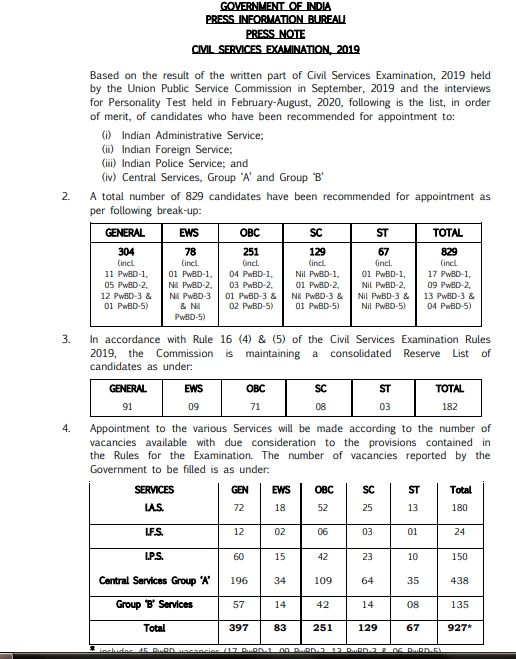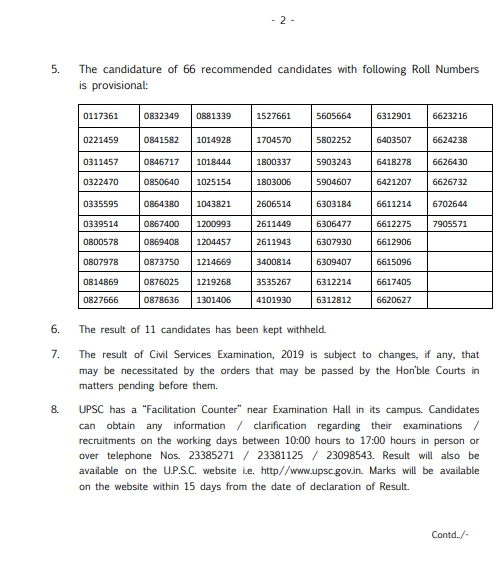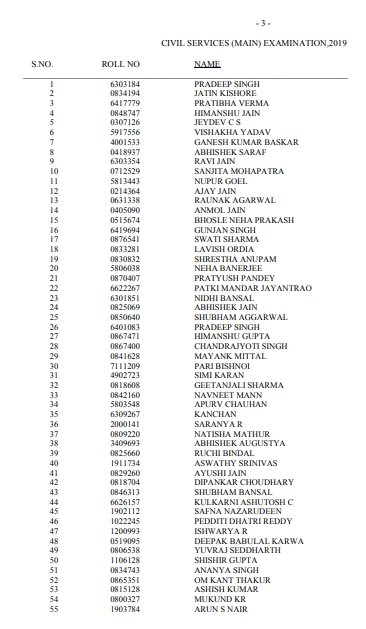 About UPSC
The UPSC is the India's premier central recruiting agency. The commission is responsible for appointments of all Indian civil services and group A & group B of central services.
The UPSC conducts the examination every year to select officers of IAS, IFS and IPS cadre among others.
Stay tuned with Doubtnut for latest updates on UPSC examination!